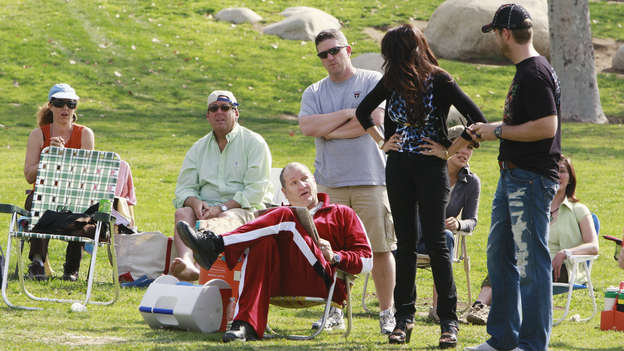 If there's one thing I know about this fall season, it's that you will seriously regret it if you don't tune in to tonight's series premiere of Modern Family.  The comedy series, about three families who have, for whatever reason, granted access to camera crews (the reason is not dealt with or really talked about in the opener), is refreshing and different, all the while being a genuinely heart felt family comedy that everyone can enjoy.
The three families at the heart of the series are as different as they can be, meant to show that today's 'modern family' isn't what it used to be.  Julie Bowen and Ty Burrell (who is one of my favorites in a stellar cast) play Claire and Phil Dunphy, parents to Haley, Luke, and Alex.  Ed O'Neill's character Jay Pritchett is married to the much younger Gloria (Sofia Vergara, whose comedic chops seem to get better and better with each ABC comedy she joins), mother to the entirely too romantic Manny (Rico Rodriguez, my other favorite).  Rounding out the cast, Mitchell and Cameron, a gay couple who has just adopted a Vietnamese baby named Lily, are portrayed by Jesse Tyler Ferguson and Eric Stonestreet – I think that their storyline made me laugh the hardest in an episode that already had me laughing out loud at every turn!
The show doesn't try to be preachy about what a family is – it shows that family is whatever you make it, and it's damn funny to boot.  I worried when I heard the show was going to be set as a mockumentary because we've seen that done all over the place lately, but I am happy to say that it was different enough from other shows that I was able to avoid comparing, and focus on enjoying the series.  If my praises aren't enough for you, consider the fact that without seeing beyond the pilot, big name guest stars like Shelley Long, Edward Norton, and Elizabeth Banks have signed on and promise to be as hilarious as the rest of the cast!  Do your part to make sure that a smart comedy like this doesn't go by the wayside! Set your DVRs for Modern Family on ABC at 9PM.
Series Premiere: Wednesday, September 23rd on ABC 9:00/8:00c